Impactful Email Marketing Masterclass 💌 - Growth Session with Caner Veli
Regular price

£497.00
Sale price
Rating: 5.0 out of 5.0
Share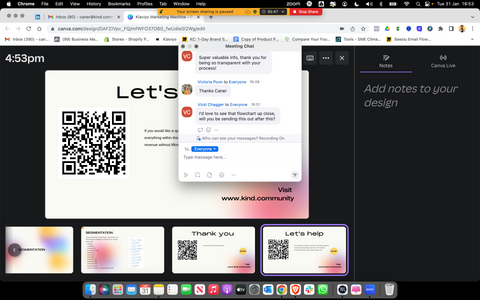 If your emails aren't consistently earning you

five or six figures

per month then this masterclass will drastically boost your purposeful profits.
Perfect for sustainable e-commerce brands.
In this session, Caner will take you behind the scenes of how we use Klaviyo to generate 6 figure months. He shares the exact strategies, techniques, and systems we use in our agency. These strategies have helped countless other impact brands scale to six figures per month.
Caner is a seasoned entrepreneur who successfully launched and scaled the global brand Liquiproof.
Bottled Baking Co added £3,458 (22%) in the first 30 days and £26,837 in 90 days using this EXACT approach. 🤩That's a 54x ROI🥳
Bulfinch Coffee generated 28% in 45 days.
You will learn the following:
💌Why emails are so important to sustainable growth
🥳Turning prospects into raving fans
🎁Step-by-step walkthrough of five automations that have generated over 7 figures

After working with hundreds of impact e-commerce brands, we've found that the majority were losing at least £10,000 every single month. 🤯
The problem is not your ads. ❌ It's your email strategy.
💡 How much money are you losing from your email flows right now?
Gain access to the knowledge and expertise of a proven impact entrepreneur with this Impactful Email Marketing Masterclass.

✅Achieve greater email profitability
✅ Create iconic impact
✅Spend more on ads and scale faster
Don't miss out, sign up today and take your impact brand to the next level!
Huge value-add
The masterclasses with Caner are always impactful to our business and the value delivered via the well-structured workshops have helped us implement improvements to our business
Highly valuable and actionable advice
I found this super valuable and interesting. I sat down with my marketing team to action the recommendations outlined in this programme. I'm looking forward to seeing the results as we launch new Klaviyo campaigns!