Building for a better future?
Build and scale your sustainable venture with us.
We're looking for founders that want to create iconic impact.
We understand the unique challenges and opportunities that come with building an impact startup, and we're here to support you every step of the way.
Each programme offers early-stage entrepreneurs access to business coaching, a range of masterclasses, workspace in central London, and access to grant or equity funding.
Our team is made up of experienced founders, advisors, strategists, and impact investors who have a track record of success in the impact space.
Programmes end in Demo Days and Pitch events with Partners and Investors.
Do not apply if you are building an extractive business.
APPLICATIONS ARE OPEN FOR OUR NEXT COHORT
Our Programmes
6 month programme that takes you from idea to startup.
APPLICATIONS CLOSED
12 weeks of traction and triple digit growth.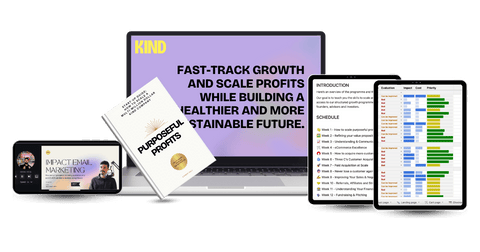 All the tools you need to thrive
Dedicated growth resources, videos and step-by-step training that covers EVERY aspect of scaling your impact brand.
Branding & positioning.
Pricing & Margins.
High converting eCommerce sites.
Creating highly profitable Influencer, Meta & TikTok campaigns.
Creative & content that converts.
Hiring and retaining top talent.
Sales & negotiation techniques.
Identifying and pitching to investors.
Build with exited founders
Our team has the expertise and resources to help you overcome common growth hurdles, such as product-market fit, scaling operations, and building a strong team. We also have a deep network of contacts in the impact investing community, which we can leverage to connect you with the right investors or partners at the right time.
If you're an ambitious founder of a consumer goods, climate tech or fashion brand then we recommend you get your application in!
Our leadership team
Caner is our CEO. He has previously founded and successfully scaled the sustainable care brand Liquiproof. Having always been at the forefront of digital marketing strategy and innovations, Caner earned one of the single largest investments on Dragon's Den history. He also has in depth experience with both B2B & B2C models and has collaborated with major fashion retailers and brands, including Adidas, BMW, Burberry and IKEA. Watch the pitch, here.
Caner is a mentor to a number of impact brands building a better future.
FAQs
I don't have a limited company, can I still apply?
Yes, however you will need to incorporate your business within 14 days of joining the programme.
Do you prefer certain sectors?
Ideally we would like to see solutions against the biggest issues. Consumer Goods, Circular business models, Food, Fuel/Energy and Fashion. However, we will judge each startup on its own merits. Obviously, we are unlikely to accept competitors within the same cohort but are otherwise very open.
Do you sponsor visas?
Will you sign an NDA with us?
No. NDAs are not practical. You do not have disclose to us anything you are not comfortable sharing.
What's the catch? What's in it for KIND?
Our mission is to make the sustainable attainable and accessible. We're hoping to support 1,000,000 impact founders by 2050.
We're fuelled by working with passionate change-makers that are building iconic impactful businesses. Our goal is to provide so much value to you that you're able to build an iconic impact brand and continue to want to work with us.